VM Pro
Introducing
Virtual Meetings Pro
Sell smarter, not harder with the power of Emotion Ai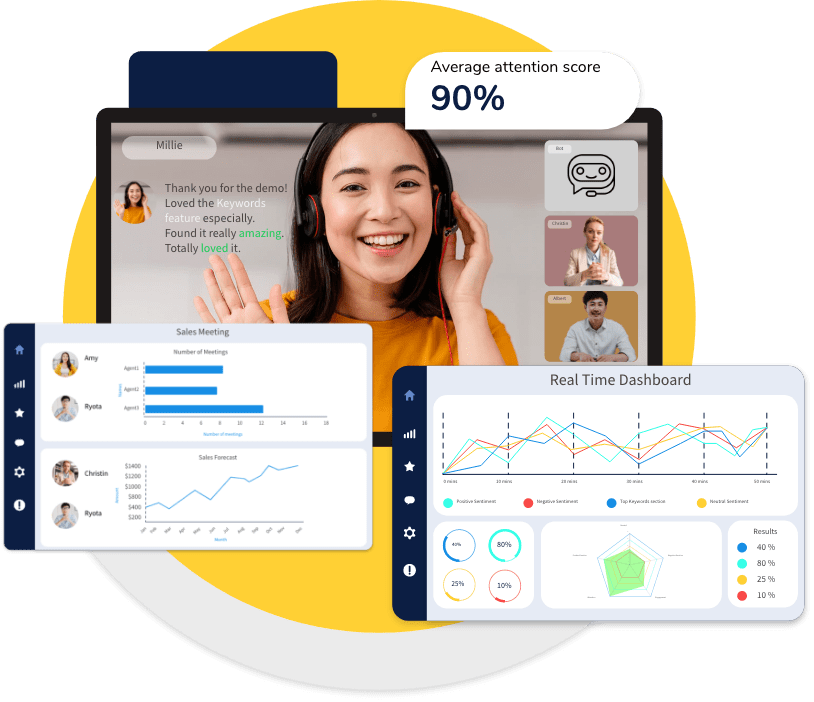 The technologies that power VM Pro
Audio tonality*
* Coming Soon
Empower your Sales Reps with Emotion Ai
Simplify your Sales Operations with Emotion Ai
Simplify Sales Coaching
Now monitor every sales conversation without being there. Assess individuals & team with data-driven metrics to identify top performers and those that need help. Create an environment of self-learning with automated meeting insights.
Track Deal Progress Automatically
Get meetings insights for every meeting on each account. Assess deal progress basis customer engagement and happiness. Check if product proposition, pricing, features or competitors are a concern via customer sentiment during discussions.

Manage Knowledge Transfer Seamlessly
Now don't lose accounts along with your sales reps. Retain the knowledge and history of each account to be handed over to new team members with digital call libraries, transcripts and insights to manage customer knowledge on an ongoing basis.
What makes VM Pro your must-have
sales enablement tool
What industry leaders have to say about Thelightbulb.Ai

Chandrabhanu Pattajoshi
Founder, Goseeko
Early access to Virtual Meetings Pro has our team quite excited about the prospect of bringing Emotion-Ai led sales enablement to our business. We are always looking for ways to amp up & improve our sales team's performance and close out more deals, and this tool promises to provide us with some very interesting insights. I am particularly looking forward to the real-time alerts on video-calls, that tell my sales people how stakeholders and potential customers are responding to the sales pitch, features and pricing, as such unstated responses will guide my team on how to best approach each prospect and close more deals. Looking forward to using the premium, full-access version soon.



Kanchan Kumar
Co-Founder & CEO, Truly Financial
Enterprise sales is a complex sales environment with multiple stakeholders and a long, painstaking process, that needs to be closely monitored at all stages. So, when I heard about VM Pro's Emotion Ai led technology that has the potential to tap into unstated responses during customer interactions, I was intrigued. We are keen to try out the early-access version & receive emotion and engagement feedback on the sales pitch and conversation, to ensure that potential customers are engaged and plugged in through out the conversation. And the fact that VM Pro connects seamlessly into all the popular VC tools like GMeet, Zoom & MS Teams, ensures that the flow of conversation never moves off familiar platforms. We can't wait to get cracking on the full-service version soon.
Latest from our Resources
Customer Onboarding
From Sign-Up to Success: Nailing Customer Onboarding for SaaS Companies
There was a time when SaaS products with good customer onboarding called it a differentiator because few products offered one at the time. But times have changed and as new products flood the SaaS market, a good customer onboarding experience is no longer
Read More
Emotion AI
How is AI used for advertising?
The pace of the AI revolution has been unprecedented. You can find an AI tool for almost any task that you can do on your laptop and
Read now
Sales Enablement
Make Every Minute Count: How Meeting Analytics Transforms Virtual Collaboration
You will agree when I say most meetings are boring and let's be real, most people are just chilling or having a snack behind that webcam
Read now