Episode #1: Priya Lobo with Ritu Srivastava (Heureka: The Insights Podcast by Thelightbulb)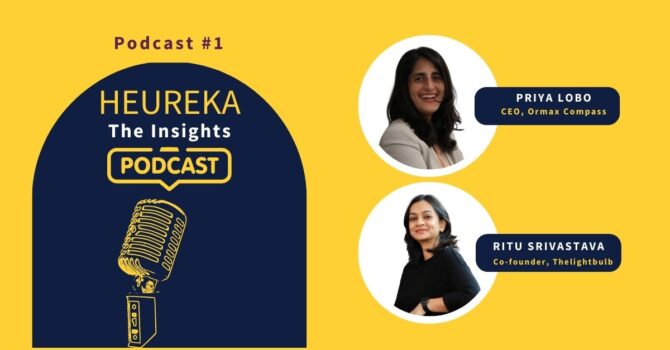 Episode #1: Priya Lobo with Ritu Srivastava (Heureka: The Insights Podcast by Thelightbulb)
March 27, 2023
Welcome to the first episode of Heureka – The Insights podcast' by Thelightbulb.
We kick off the podcast series with Priya Lobo, CEO of Ormax Compass – a leading name in the consumer understanding and brand positioning space in India. Priya has spent over 28 years with Ormax in the art of understanding consumers and representing them in the boardroom. Amongst the very many hats she wears, Priya is also a Mom & Kids expert and a Behaviour Specialist. She is an active ESOMAR India Representative and former Managing Committee Member of Market Research Society of India (MRSI).
In the podcast, Priya shares some interesting tips, her thoughts and experiences on consumer insights with Ritu Srivastava (Co-founder, Thelightbulb).
Listen to the complete podcast and share it with your network now.
Subscribe to the podcast on: