Episode #4: Natasha Hritzuk with Ritu Srivastava (Heureka: The Insights Podcast by Thelightbulb)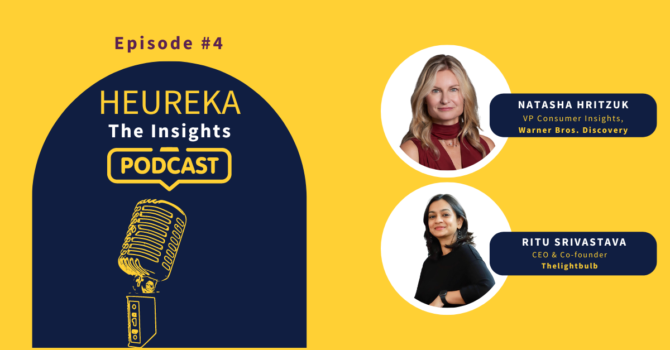 Episode #4: Natasha Hritzuk with Ritu Srivastava (Heureka: The Insights Podcast by Thelightbulb)
July 4, 2023
Welcome to the fourth episode of 'Heureka – The Insights podcast' by Thelightbulb.
Guest: Natasha Hritzuk
Today our guest is Natasha Hritzuk (VP Consumer Insights, Warner Bros. Discovery). Natasha Hritzuk is a seasoned professional in consumer insights and has recently featured among the top influencers in consumer insights industry. She currently serves as the Vice President of Consumer Insights at WarnerMedia, a leading media and entertainment company, before which she has worked with Microsoft Advertising and General Mills.
With extensive experience in market research and consumer behavior analysis, Natasha has established herself as a strategic thinker and a results-driven leader. Her expertise in understanding consumer trends and preferences has helped to shape WarnerMedia's approach to creating and delivering engaging content.
In this episode, she shares her experience in the industry, the adoption as well as evolution of technologies, and what keeps her excited about her work.
Host: Ritu Srivastava
Heureka – The Insights Podcast is a series of podcast episodes hosted by Ritu Srivastava, who is a seasoned entrepreneur, focused on her current startup TheLightbulb.Ai, a full-stack Emotion Ai platform for digital interactions that has scanned more than 8 million faces for emotion analysis. She has held pivotal profiles across deep-tech, health-tech, telecom and media companies over the last 20 years. Her cross-industries experience gives her a unique edge in understanding consumer trends and insights across verticals.
Listen to the complete podcast and share it with your network now.
Subscribe to the podcast on: